NEWS
Establishing The 3rd Edition "Creativeness On The Road to Imam Hussein"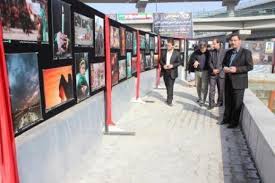 "Creativeness On The Road to Imam Hussein" in the Holy City of Najaf

The Ibda' Media Organization established its Third Annual Exhibition under the title  "Creativeness On The Road to Imam Hussein" in the Holy City of Najaf. The Exhibition witnessed the participation of numerous prominent international and local artists.
A media source indicated that the opening ceremony has been attended by several artists and pilgrims who are also taking part in the march towards Karbala.
Mr. Sarmad Al-Nuaemi, Director of Ibda', stated that the aim of the Exhibition is to globally share the Husseini Revivalism in a unique and in a creative way. He added that 150 artists participated in the Exhibition from 12 countries including Iraq, Saudi Arabia, Bahrain, Iran, India, Pakistan, UK, Russia, Kuwait, Lebanon, Turkey, and Algeria.